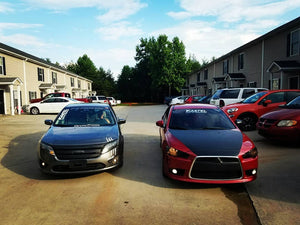 Fall Planning & Updates
Hello friends! It has been a minute, and we have a few major updates that you likely noticed.
First, our website has newly updated inventory, which will linked to our brand new Shopify POS when we are in the field! Our inventory numbers should be much more accurate, and we are looking to add branded apparel by the end of the year. Feel free to take a look at our newly-styled stickers, banners, and Snapbacks!
Second, our schedule is being changed at this time. Some events were removed, others are being added, and some dates have changed. We'll be spreading out to a venue near you very soon - catch us in Tennessee, South Carolina, and Florida through the end of the season!
Lastly, we have new staff and lifestyle advocates. Because of this, we also provide new services! We have added custom shift boots to our growing list and will have them live on the website very soon. We can do other vehicle fabric services as well, but do bear in mind they are completely custom-order creations, so be prepared for something truly unique if you want anything done!
We appreciate our ongoing community involvement in our hometown of Atlanta, and hope to see you all very soon! Remember, you can catch us every Friday night in Buford, GA at our weekly car meet!
Ford Fusion, William Weakley
Mitsubishi Lancer, Yoshi Ward
---