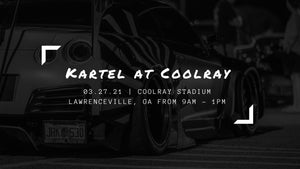 Kartel at Coolray
Welcome to Kartel at Coolray, a new way to experience car culture and be immersed in community. From your local grass roots shops and builds, to national brands and exotics, there will be something for everyone.

Join us March 27th from 9am - 1pm to enjoy music, food trucks, shopping, and the Atlanta car community at it's finest. This event is family, kid, and pet-friendly! And yes, it's low-friendly, too 😉

Entry is only $5 per vehicle, regardless of how many you cram inside - which means your friends have no excuse not to ride with you! This goes towards adding new guest stars, entertainment, and activities for you to enjoy!

As always with COVID guidelines in place, we respectively ask all attendees to maintain CDC requirements by social distancing as able and wearing masks at all times. Please bear in mind that we cannot be held liable for COVID-related issues as you choose to party with us safely and at your own risk.

Photography, videography, and vendors are welcome! Please message us directly for vending costs, sponsorships, and affiliate marketing. Live streams will be hosted every event for its duration.

We anticipate a hot comeback from our old meets which boasted some of Atlanta's hottest builds and over 1000 attendees weekly. So what are you waiting for? We'll see you at Coolray!
---
2 comments